OPENING KEYNOTE & CLOSING INTERVIEW
---
Closing Interview
---
Speakers
---
Opening Keynote & Closing Interview – Dr. Carol Queen
Carol Queen has a PhD in sexology; she calls herself a "cultural sexologist" because her earlier academic degree is in sociology: while she addresses individual issues and couple's sexual concerns, her overarching interest is in cultural issues (gender, shame, access to education, etc.). Queen has worked at Good Vibrations, the woman-founded sexuality company based in San Francisco. Her current position is Staff Sexologist and Chief Cultural Officer; her roles include representing the company to the press and the public; overseeing educational programming for staff and others; and curating GV's Antique Vibrator Museum.
She is also the co-founder and director of The Center for Sex & Culture, a small non-profit sex ed and arts center, and is a frequent lecturer at colleges and community-based organizations. Her dozen books include a Lambda Literary Award winner, PoMoSexuals, and Real Live Nude Girl: Chronicles of Sex-Positive Culture, which are used as texts in some college classes.
She will be presenting the Opening Keynote Asking and Answering on the Sex-Positive Spectrum: Enthusiastic Yes, Comfortable No, Clear & Coherent Maybe.
In addition to the Opening Keynote and Closing Interview, Dr. Queen is presenting Using Humour in Sex Ed: When and How to Use Humour to Make Information More Accessible
with Cathy Vartuli, Reid Mihalko and Jet Noir.
---
Dr. Robert Lawrence
Dr. Robert Morgan Lawrence has 38 years of experience in the field of sex education. He has a Doctorate of Education degree in Human Sexuality and holds a second doctorate degree in health care. He has served as a sex industry consultant, educator and academic author and lectures both nationally and internationally about human sexuality and health.
Dr. Lawrence will be doing the Closing Keynote with Dr. Carol Queen and Cathy Vartuli.
---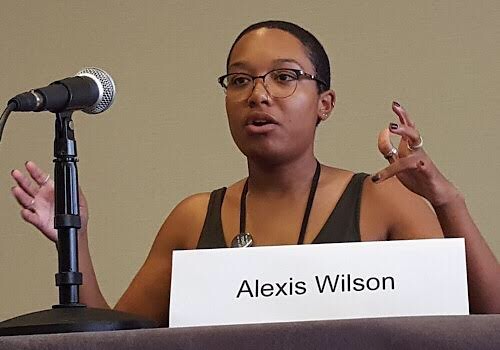 Alex Wilson
My name is Alex Wilson and I am a queer DC based sex educator who has been crafting workshops, lectures, and panels for the past 5 years. Professionally I work as a trauma educator, speaker, and harm reductionist. My experience with harm reduction and public health also allows me to facilitate training and do direct community outreach. This year I am facilitating several awesome sessions at Converge and it's my first time!
These projects are near and dear to me for many reasons- but namely for the dialogues they inspire. I have always felt there was power in speech- as they say there is life and death in a tongues. Apart from the religious connotation this sentiment still holds true- being able to name things holds incredible power. We can use this power to heal ourselves intra and inter-personally. Both personal and communal healing are central to my work.
Check out Cathy's interviews with Alex on Emotion Logic Binary and Fetishizing Race.
Alex is presenting:
---
Angela Thurston
Angela Thurston is a Holistic Sexuality & Relationship Coach. She has been passionate about holistic health, sexuality and embodiment for the past 30 years.
She has studied and trained with 3 of the world's top leader's in the field of sexuality and embodiment. Including none other than the mother of masturbation herself – Betty Dodson. Somatic pioneer and visionary Emilie Conrad, and Somatic Sexologist Jaiya, the creator of the Erotic Blueprints.
Angela helps women and couples in sexless, or near sexless relationships, reclaim their turn on so that they can create greater sexual fulfillment and deeper connection.
As a coach, speaker and facilitator Angela uses her insight, her calm presence and somatic based sexuality practices, to arouse new paths of inquiry. Breaking up the congestion of longstanding belief systems around love, sex and relationships.
Check out Cathy's interview with Angela!
Angela will be presenting Pleasure Mastery: How to Create Deeper Intimate Connection and Greater Sexual Satisfaction.
---
Brianna
Brianna is a chronically ill trans lesbian and avid content creator. She focuses on queer, trans, and disabled narratives in her activism and her writing, and is proud to be part of a powerful disability community. Talk to her about desirability culture, collaboration, science fiction, poetry, or puns, and if you really want to hear more of her voice, you can check out her trans woman-centered comedy podcast Salt Cravings.
Brianna will be presenting Crip the Bedroom with Jesseca, Tasha, and Q.
---
Camron Bute
Camron Bute is on a life-long journey of personal healing, and along the way he has gathered tools that he now offers to others. His journey has taken him to self-help programs, therapists' couches, tantra classes, consent workshops, play parties, festivals, and many other places in search of understanding. Camron also draws on a decade of experience as professional services consulting, where he hones skills like public speaking, teaching a topic to those who are entirely unfamiliar with it, and creating diverse work environments where people of all viewpoints can pursue their passions.

Camron applied to present at ConvergeCon because he is someone that has both harmed and been harmed. His hope is that by participating in the conversations around harm, he can continue his journey of accountability for the negative impacts he has caused by improving support for others, as well as increasing safety in his communities that he and others will be able to access in their journey to living their lives in their own way.
Check out Cathy's interview with Camron!
Camron is presenting Restorative Justice? Transformative Justice? Compassionate Justice? Opening to Love… with Meagan Lee Filteau.
---
Carrie Hill
Carrie holds a Masters degree from the University of Victoria and is the founder of Empowering Sexuality, a resource dedicated to community growth, releasing shame, and living authentically. As a professional dominatrix, sex worker rights activist, sexuality educator, and active BDSM lifestyler for over a decade, their focus is on the wealth of knowledge that sex workers can bring to consent and to sexual health and happiness. Originally from Vancouver Island, they are now based in Vancouver where they facilitate a variety of sexuality and BDSM-oriented workshops. They are currently in application status to join the Fall 2020 PhD program at the University of Guelph, with a focus on sex work, sex workers' rights, and decriminalization.
Check out Cathy's interviews with Carrie on Corporal Punishment and Sex Workers' Rights.
Carrie will be presenting:
---
Cathy Vartuli
Cathy is a sex-positive Emotional Freedom Coach who helps people transform their traumas into their greatest strengths using love, laughter and inner guidance. She uses a practical yet intuitive approach to help people connect with their own power and guidance. Prior to establishing her coaching business, Cathy got her Masters in Physics at SUNY Binghamton and her PhD in Materials Science and Engineering from the University of Florida. She has 19 patents and works in major semiconductor companies doing R&D.
On topics around body image, shame reprogramming, and powerful self-expression, Cathy helps clients of all shapes, sizes, ages, and gender expressions break out of old patterns and find their voice, with a focus on helping those who feel shy or awkward gaining their confidence.
As an all around geek who compulsively studies marketing and consensual influence… She also loves helping heart-centered sex-positive businesses find their unique voice and expand their audience and increase abundance.
Cathy will be presenting:
---
Cherish Dorrington, RTC, MTC
Cherish Dorrington is passionate in assisting others in finding freedom to live, without guilt, shame or fear. A psychological therapist for almost 20 years, she's directed her focus, in recent years, to intimacy coaching, in order to put her energies where her passion lies: creating a shame-free environment of courageous vulnerability and personal ownership, for those longing to break free of the internal and external pressures we are conditioned by.
Cherish has offered workshops on self-awareness, relationships, releasing shame, poly and kink, over the past 15-20 years, is an instructor with Polyamory Starter Kit, creating primers for those opening up their relating style to consensual non-monogamy, as well as for educating health professionals, and has been a director for two alternative sexuality organizations.
Cherish believes that the way we see life determines our experience of it. If this be so, then shifting perspectives makes change possible. She is deeply committed to being that safe place for equipping, empowering and cheering others on to healing, awakening and freedom.
Check out Cathy's interview with Cora and Cherish!
Cherish will be presenting Womanhood Without Competition: Building a world where we welcome collaboration and inclusion with Cora Bilsker, RSW.
---
Cora Bilsker, RSW
Cora Bilsker believes that exploration, acceptance and being asked excellent questions can change your life. She has been building knowledge of unconventional relationships and sexuality since 2000 and began her practice, Nested Heart Counselling, to provide recognition and emotional support to people in Victoria and Vancouver, BC. As a Registered Social Worker, Cora strives to nurture holistic perspectives, integrating concepts such as systemic oppression, intersectionality and generational trauma into her practice. Sessions with Cora offer clients a compassionate space to release the heaviness they have been carrying and discover new ways of living free of shame and fear. Cora is also an instructor with Polyamory Starter Kit, which began with the intention to reach out to people exploring opening up a relationship for the first time and has since expanded to providing a plethora of workshops for professionals, couples and groups. Self-expression without fear is what Cora is passionate about, and whether you're struggling with an unconventional relationship structure or something else entirely, she knows that her welcoming and knowledgeable approach can make a significant contribution to the freedom you feel you have to heal.
Check out Cathy's interview with Cora and Cherish!
Cora will be presenting Womanhood Without Competition: Building a world where we welcome collaboration and inclusion with Cherish Dorrington, RTC, MTC.
---
Hailey Heartless
Hailey is a professional dominatrix, transformative justice advocate, feminist and sex worker rights activist from Vancouver, BC. As a fetish service provider, her work often explores themes of gender identity, gender expression and the ways they intersect with sexuality. Her activism, consulting, facilitating and public speaking often focus on themes of community justice and conflict resolution, the de-stigmatization of sex work, and the de-mystification of trans women's bodies. Hailey's facilitating and advocacy uses a trauma informed approach that tries to meet people where they're at and bring them along, creating braver spaces where perfection isn't expected and mistakes and awkwardness are embraced as a healthy part of growth.
Check out Cathy's interview with Hailey!
Hailey will be presenting Making Love to a Trans Woman with Olivia Cutie.
---
Irene Leonis
Irene Leonis is a student completing her degree at Simon Fraser University, and a blogger at The Desi Vibes, where she talks about sex, kink, and adventures in queerness – among other things. She is also passionate about intersectional feminism, and PoC representation in all areas of her life. She is honored to be a part of the "Beauty and Perspective" panel this year at ConvergeCon, with Cathy Vartuli, Shadeen Francis LMFT, and Jet Noir.
---
Jesseca
Jesseca is a queer, biracial, and disabled writer and activist. Their focus has been on queer and disability activism primarily through volunteer work. Consent, desexualization, and accessibility are at the forefront of their work. When not otherwise engaged, you can find them reading a book or hanging out with their pup.
Jesseca will be presenting Crip the Bedroom with Q, Tasha, and Brianna.
---
Jet Noir
Jet Noir has been a part of sex positive communities since 2002 in Atlanta where he frequented a few underground establishments. Educated in the study of human movement and psychology, Jet has spent over a dozen years as a coach helping people to improve their perception of their bodies. Jet has taught workshops on what he calls Body Faming (improving our relationships with our five senses in order to better listen to and celebrate our bodies) all around the Bay Area and will begin touring the workshop in the coming year. Not only a host and organizer of play parties for people of color, he also frequently volunteers as an emotional support "angel" at parties around the Bay Area.
Check out Cathy's interviews with Jet on Beauty and Perspective, Finding the Courage, and Using Humour in Sex Ed!
Jet Noir will be presenting:
---
Lauren Shay MSW, RSW, RCC
Lauren is a counsellor who works with individuals and couples in Vancouver, BC.
Through Lauren's work with the Stopping The Violence program at agencies throughout British Columbia, she has worked with many individuals who have experienced intimate partner violence, sexual assault, and childhood sexual abuse. She has focused on the long-term impacts of sexual and gender-based trauma on relationships, sense of self, and sexuality.
Lauren strives to create safe and secure relationships with with her clients, which is the foundation for trauma recovery. Her work is informed by her studies in Somatic Experiencing, a powerful method of overcoming trauma using the body's survival instincts and the mind-body connection.
Lauren is a Registered Social Worker (RSW) and a Registered Clinical Counsellor (RCC). She got her Masters in Social Work at the University of British Columbia. She completed Sex Therapy training at the University of Guelph and the Sexual Health Educator Certification program through Options for Sexual Health.
Lauren will be presenting Reclaiming Sexuality After Sexual Violence and Abuse: Tips From A Sex-Positive Counsellor.
---
Little Woo
Little Woo helps seekers and creatives to express their Soul Magic – a unique magic that is within each person. Since 2005, she has guided thousands of unconventional thinkers and social innovators to heal self-doubt, despair or disconnection in order to know their self-worth, talents and joy. Currently, she offers the Sacred Dream coaching program (how to honor your higher purpose) and the "Inner Compass" program (how to honor yourself in 4 core areas of life). Join the School of Enchantment at littlewoo.org to receive updates and episodes of the Magic of Compassion (how to apply compassion in different situations). Little Woo is also a performance artist (burlesque, cabaret, puppetry, ventriloquism & stage hypnosis) and creator of interactive experiences like the Sacred Kiss, Burlesque Yoga and Zombie Yoga! Join the Magical Humans Facebook Group for inspiring examples of humans creating Meaningful Beauty!
Check out Cathy's interview with Little Woo!
Little Woo will be presenting The Desire Gauge: When Sexual Desirability Is Tied To Self-Worth.
---
Marcia Baczynski
Marcia Baczynski is a renowned speaker, writer and coach on sexual communication, relationships and women's empowerment. Her primary mission is to help women and the people who love them to overcome shame and get in touch with what they truly want – romantically, sexually and relationally – even if it's off the beaten path. Marcia is the co-creator of Cuddle Party and founder of the Good Girl Recovery Program. Since 2003, she has worked with tens of thousands of people through her private coaching, workshops and group programs and made appearances in hundreds of magazines, news stories, radio interviews and podcasts. Marcia lives in San Francisco, CA where she spends a lot of time with her weirdo friends, being an aunt, hiking and sailing.
Marcia will be presenting "Fuck Yes!": Clear Communication in the Bedroom.
---
Mason Jenkins
Mason Jenkins is an educator from Calgary, Alberta. This is his second year attending Converge Con, and he is expanding his talk, "Fumbling, Failing and Fucking up." Mason's experience as an educator ranges from working as a teacher in Calgary's Public Charter Schools to Calgary Public Schools as a Sexual Health Educator. Jenkins also provides professional development regarding gender and sexual minorities to public service workers. "Fumbling, Failing and Fucking Up" summarizes his misguided journey into masculinity within three major themes: Fumbling (I was a sexist lesbian), Failing (I was a toxic masculine trans man), and Fucking Up (I was an abusive partner.) The focus of his presentation is to identify the manifestation of these harmful behaviours and how rehabilitation, restorative justice and radical self-love helped himself and others of similar histories to liberate their understanding of masculinities.
Mason will be presenting Fumbling, Failing and Fucking Up.
---
Meagan Lee Filteau
Meagan Lee Filteau is a Sexuality and Consent Educator based in Calgary, Alberta. Meagan is deeply passionate about creating platforms for people to explore sexuality through discussions, workshops, and play parties. Offering harm reduction services and working in the role of Fetish Fantasy Fulfillment Professional are additional ways Meagan chooses to inspire cultural acceptance to diversity.
Her educational background includes psychology, sex and intimacy counselling, and massage therapy. Over the past few years, Meagan has dedicated significant time and energy towards Tantra and Shamanism practices, with the intention of fostering a deeper understanding of self.
Meagan is the co-founder and owner of Eudaimonia Sexuality Seminars, an organisation offering pleasure-based sex education for adults. She is also the founder of a regional Freezerburn sex education theme camp, the Birds and the Beehive. Through her various community roles, Meagan's drive for deeper accountability and compassion has been ignited.
Check out Cathy's interview with Meagan!
Meagan is presenting Restorative Justice? Transformative Justice? Compassionate Justice? Opening to Love… with Camron Bute.
Melody Anne
Hailing from Vancouver, Canada, Melody Anne is an adult sexuality educator, workshop facilitator, sex researcher, feminist, kinkster, and all-around sensual adventurer. A shameless sex geek with a degree in psychology and sexuality studies, she completed sexual health education training from Options for Sexual Health, and juggles her time between coordinating studies at a sex research lab and teaching workshops on kink, sexual health, and pleasure. She has presented at venues across North America including CatalystCon, The Citadel SF, Guelph Sexuality Conference, and the University of British Columbia.
With over eleven years of experience in the BDSM community under her belt, Melody Anne identifies as a queer, pansexual, poly-flexible kinkster, hedonist, and badass bottom. As an educator and advocate for healthy sexuality, Melody Anne believes that accurate information, clear communication, and continuous exploration are key to a life full of sexual celebration! Follow Melody Anne on Twitter @EroticEducator, or on Facebook.
Melody Anne will be presenting
---
Olivia Cutie
Olivia Cutie is a transgender adult-model based in Vancouver B.C. With years of experience within the kink community, she brings a fun twist to presentations with a focus on consent and mutual enjoyment.
Check out Cathy's interview with Olivia here!
Olivia will be presenting Making Love to a Trans Woman with Hailey Heartless.
---
Q
Q is a non-binary queercrip sex worker and performing poet with strong anti-oppression and decriminalization politics. They have been writing, leading, and facilitating discussion-based workshops on disability, access, and ableism formally for three years; informally since they have found communities engaging with those topics. When not performing, facilitating, writing, or imminently dying, Q plays cribbage and crochets black doilies with their roommate.
Q will be presenting Crip the Bedroom with Jesseca, Tasha, and Brianna.
---
Reid Mihalko
Reid Mihalko of ReidAboutSex.com helps adults and college students create more self-esteem, self-confidence, and greater health and accountability in their relationships and sex lives using an inspiring mixture of humor, personal stories, keen insight, and comprehensive sexual health information.

In early 2018, some very brave people came forward sharing harms that Reid had caused them. Reid stepped down from teaching and initiated a restorative justice-based accountability process to address his misconduct and make amends if and where possible. The formal, year-long process along with Reid's apology and resources were shared publicly and can be found at TinyURL.com/reidaccountability. Going forward, Reid's projects and appearances will include pointing people towards resources and experts on restorative and transformative justice-based accountability processes.

Reid teaches internationally, running workshops and speaking on communication skills and alternative relationship styles. Whether online, onstage, or at a college or university, Reid shares skills and concepts designed to help everyone be the change they want to see in the bedroom.

Reid's workshops and college lectures have been attended by over 50,000 people from all over the globe. He has appeared in media such as Netflix' Chelsea Does… with Chelsea Handler, Oprah's Our America With Lisa Ling on OWN, the Emmy award-winning talk show Montel, Dr. Phil's The Doctors on CBS, Bravo's Miss Advised, Fox News, in Newsweek, Seventeen, GQ, The Washington Post, and in thirteen countries and at least seven languages.

Reid is also founder of Sex Geek Summer Camp and Sex Geek Conservatory, which help sex educators learn valuable business skills that allow them to reach more people with greater ease so that they can transform more lives while making a better living as sexperts.
Reid will be presenting:
---
Sara Blaze
Sara Blaze is the President of Metro Vancouver Kink, BC's largest not for profit organization focusing on promoting outreach and education on BDSM and Kink. She is also the Chair of Westcoast Bound, MVK's premier annual weekend long event focused on BDSM education. Sara has been interviewed on several occasions, notably with Jill Krop of Global's Unfiltered and has sat on a number of panel discussions geared at demystifying kink and BDSM.
Check out Cathy's interview with Sara!
Sara will be presenting Female Domination.
---
Shadeen Francis, LMFT
Shadeen Francis, LMFT is a licensed marriage and family therapist, professor, and author specializing in sex therapy and social justice. She has been a featured expert on platforms like CBC, Refinery29, the Huffington Post, and the New York Times to share her expertise, and speaks internationally on topics such as sexual self-esteem, intimacy, and relationship negotiation. Shadeen's belief is that the world is built on the strengths of communities. This worldview has propelled her to focus on underserved populations: ethnic and cultural minorities, the kinky/poly/queer communities, and victims of economic hardship. Her work allows people of all backgrounds to improve their relationships and live in peace and pleasure.
Shadeen will be presenting four sessions:
---
Dr. Shauna Correia
Dr. Shauna Correia, B. Eng, MDCM, FRCPC, completed her medical training at McGill University and then her residency in psychiatry at Dalhousie University. She now serves as clinical faculty at the University of British Columbia (UBC) and works as a sexual medicine specialist at the BC Centre for Sexual Medicine (BCCSM) where she assesses and treats men, women, gender-diverse folk, and couples/partnerships referred for a wide variety of sexual difficulties and concerns (including sexual dysfunctions, sexual pain syndromes, and paraphilias). She is involved in several research projects involving the optimization of sexual functioning and has a strong interest in sexual medical education. To sum it up: Shauna is super passionate about all things sex, especially about how to help enrich and improve peoples' sexual experiences.
Outside of work Shauna enjoys travelling, hiking, skiing, and spending time with her amazing dog Seiki, a certified therapy dog.
Check out Cathy's interview with Shauna here!
Dr. Shauna Correia will be presenting Keeping It Wet and Wonderful – A Guide to Sexual Lubricants From A Sex Doctor.
---
Tasha
Tasha is a mixed Filipinx who's proud to be disabled, neurodivergent, queer, polyamorous and dying faster than you. They're a poet, writer, singer, performance artist and science lover who can often be found curled up in their living room with their cat playing Runescape.
Check out Cathy's interview with Tasha!
Tasha will be presenting Crip the Bedroom with Jesseca, Q, and Brianna.
---
Victor Salmon
Intersectional mixed-race feminist. Queer relationship anarchist. Educator. Consultant. Volunteer. Mediator. MVK director at large and Accountability Subcommittee member. Restorative justice and accountability blogger. Vancouver Consent Crew Facilitator. Podcast host for Intimate Interactions.
Check out Cathy's interview with Victor!
Victor will be presenting Pleasure Bound – What You Need to Know About Rope Bondage with Melody Anne.
---
Dr. Yoni Alkan
Dr. Yoni Alkan is a sexual educator and a sexual consultant with a Doctorate in Human Sexuality and a Masters in Conflict Resolution and Mediation, he is also a professional cuddler with Cuddlist.com and a Certified Cuddle Party Facilitator in San Francisco.
He is the author of www.thebookofcuddles.com which is an instructional on cuddling that teaches how to better your touch and up your cuddling game. He is also the creator of www.elementsofsexuality.com; a playful, geeky, and educational site about the elements that contribute to our sexuality.
Dr. Yoni Alkan is a global speaker on various Human Sexuality issues since 2011. His expertise are alternative relationships, improving our dating landscape, and touch and consent advocacy.
Check out Cathy's interview with Yoni!
Dr. Yoni is presenting A Touch of Masculinity.